"I first met Dina not long after completing extensive treatment for breast cancer, the effects of which had been profoundly aging. I felt then as if I had been air-dropped into someone else's elderly body, which was depressing, disorienting, disintegrating. Having fought to stay alive, I hated the body in which I'd landed. Untying the knot to recover healthy functioning has been complex and slow, but it began with massage therapy with Dina. Her skillful, healing, well-trained touch helped me to regain connection with my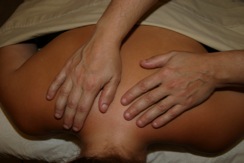 own body. Thirty pounds lighter with strength, flexibility, and energy much improved, I now recognize myself again and how my body moves. As I continue to age normally, I consider massage therapy basic to the care of my body in the same way as healthy food, exercise, and sleep.
If you have never tried massage therapy, don't hesitate: with Dina you are literally safe in her hands. She will adjust to you—whether you are a college athlete, at the peak of your professional years, recovering from illness, or facing the end of life, you want Dina ministering to you. And if you have tried other massage therapists, you are in for a treat. I'm not sure whether she is better than other therapists or whether she gets me to relax more, or both, but you'll know what I mean. I am so lucky to have found Dina and want to share her gifts with others who need them."
—Marty S-G, client
"Whenever I need to hit my RESET button, I contact Dina. Her massages are extremely relaxing and restorative. Dina is sensitive to my particular needs and I like how she integrates some aromatherapy with each session. I always walk out of a session refreshed and relaxed. I have also noticed that ever since I started massage therapy, I get colds much less often and my sports injuries heal faster."
—Virginia B., client
"Getting a massage from Dina was truly a 'Healing' experience. Most of the times I get a massage to help relax, maybe take care of a few achy muscles. But Dina's sensitivity and the respect she shows for her clients was a real reminder of the sensitivity and respect I needed to give myself. She created the safe space I needed to really relax and heal both physically and emotionally."
—Heather N., client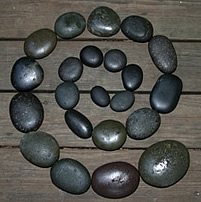 "My experience with Dina's 'hot stone' massage was wonderful and deeply relaxing. In addition to her careful, progressive placement of the warm stones, Dina's touch is soothing, connected and focused on the particular areas that will contribute most to the overall sense of healing and regeneration. She is a natural."
—Jeri D., client
"My college roommates and I were together for the first time in many years, and Dina came to my home to help make our girls' weekend extra special. Her combination of professionalism and warmth put us at ease from the first moment. Although not connoisseurs, we all agreed that Dina provided the best massage we had ever had. We were completely relaxed after our sessions and in the perfect state of mind to share time with good friends. Thanks, Dina!"
—Tina B., client
"Massage has been one of the most effective ways for me to reduce pain as well as increase flexibility. I have significant osteoarthritis in my neck and, after undergoing weeks of physical therapy, it was recommended that I continue my treatment with massage. That was exactly what I needed and it has made all the difference in the world. When one experiences pain, you tend to tense your muscles, which then leads to more pain. Massage therapy has helped me relax those muscles and thus reduce the pain. While in a massage session I have learned to totally give in to the relaxed feeling and I am able to carry over some of this feeling into my daily routine. Massage therapy has made a significant difference in my health and my sense of well being."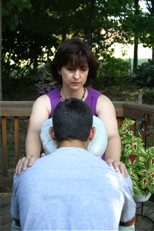 —Mary R., client
"In working with Dina I have witnessed many a satisfied customer! When people leave Dina's massage chair, even after only several minutes, their entire demeanor often seems to have relaxed and they are smiling. I have had many compliments about Dina's continuous efforts to go above and beyond in meeting the needs of her clients. She is a pleasure to work with."
—Selena R., Owner, Break for Massage
"Dina is a superb massage therapist. She provides both the perfect environment and the remarkably healing hands to enable you to relax completely and leave feeling utterly refreshed and well. Aches or pains that you enter with are gone after an hour with Dina. I highly recommend her!"
—Amy A., client
"Perhaps what is most important about massage to me is that it is time I set aside to"let go,"not just physically, but mentally. Stress takes such a toll when we try to juggle work, family, extracurricular activities and more. Massage takes the kinks out of my muscles as well as my brain. It is an hour off the"merry-go-round."
—Joan H., client
"Ms. Weiss worked with three other therapists to give neck, shoulder, and back massages to our staff during the lunch hour. They worked together beautifully, organized the room, and provided a tranquil, comfortable, stress-free setting for our staff of elementary school teachers, specialists, and para-educators. Of all the"wellness"activities we provided over the school year, our staff felt that this was by far the most valuable and beneficial endeavor."
—Karen H., elementary school administrator
"During my massage sessions with Dina, she always brought relief and comfort to my sore muscles through the warmth of her hands. Dina has got to be one of the most caring individuals that I know in the healing art of massage!"
—Michele M., client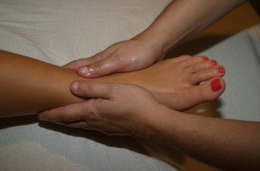 "I have been a client of Dina for a short time, but feel like we have known each other a long time. I have been having massages on & off for 30 yrs., but hadn't found someone since moving from California. I am a nurse & work in a Oncology clinic which is very busy & stressful at times. One of the doctors I work with suggested that I should have massage therapy again to help me relax & de-stress … that I needed to do something for myself. My time with Dina for my massage is usually one hour, but that time seems to go by so quickly. Feels like it was only 30 minutes. So easy to be relaxed by her gentle touch. I live in Virginia & drive almost one hour for my massage, but it is well worth the commute."
—Diana M., client
"My massage therapy session with Dina was relaxing and very therapeutic. I believe in prevention and healthy living, rather than handing over the responsibility for my health to the medical establishment and the big pharmaceutical companies. Dina fits into that philosophy perfectly. My experience was very positive. Dina is professional and compassionate. She obviously loves massage therapy and what it does for people. I felt rejuvenated and totally relaxed."
—Roz F., client
"I have the pleasure of knowing Dina Weiss from her work as a volunteer massage therapist at our annual WeCanRow DC Learn to Row weekend in May 2006. WeCanRow DC is a program that introduces the sport of rowing to breast cancer survivors as a form of physical therapy and emotional healing. At our annual Learn to Row weekends at Capital Boat Club in DC, breast cancer survivors with little or no rowing experience gather to learn the fundamentals of the sport and to give and receive support from one another. In addition to coaching sessions both on and off the water, we invited massage therapists to come and provide 15 minute massages to the participants and event volunteers. Dina was informed of the program by one of last year's participant rowers and enthusiastically agreed to volunteer for a full day of the weekend.
The atmosphere in the boat bay of a boathouse is anything but serene, but Dina created a space for her table and music that was both relaxing and rejuvenating. Her massages were a very nice treat for the rowers coming off the water workouts, and her energy and demeanor during the entire long day was nurturing, respectful and unflagging. The women appreciated her services very much, and as organizers, she helped us meet our goal of pampering the survivors, in addition to teaching them a new skill. Dina told me after the event that she felt honored to have been a part of what was a successful and fulfilling weekend for the participants. But it is we who are honored by her professionalism and genuine compassion as a massage therapist and a volunteer for WeCanRow DC."
—Doris P., WeCanRow DC Coordinator